How to Promote YouTube Channel Videos Organically
If you were looking for our free timestamp link generator, chances are you're probably also interested in getting your YouTube videos more visibility and subscribers.
You might be asking:
Where can I find YouTube channel growth ideas?
How do I get my YouTube channel noticed?
Why is my YouTube channel not growing?
Can I grow my channel organically?
And you'd be smart for asking. Because, as YouTube likes to boast, roughly "one-third of the internet" are YouTube users. That's right…over 2 billion people use this powerful platform, making it one of the most consolidated spaces for consumer attention.
And, consumer attention is exactly what every smart business wants, right? So, YouTube is where you need to be. It's pretty much like the cool kids' table at lunch. Even better—If you do it right, SEO for YouTube is incredibly effective and marketing your videos organically is doable.
Plus, we can all probably agree that free marketing is the best kind.
That's why we've devoted this page to helping you learn how to optimize for YouTube. We're including 17 actionable steps (organized into five categories) that we've found commonly lead to YouTube success.
Let's jump in and check out these tips on growing your YouTube channel fast!
Develop Videos Around an Organized Keyword Strategy
Just like with search engine positioning, keywords play a huge role. And, determining the right keywords and the best ways to use them has to be your first step in YouTube as well.
Here are our top tips on choosing keywords for SEO for YouTube:
Youtube suggested search: Use YouTube's internal search function to generate ideas for terms that are already being searched for by users inside of the platform.
Skim competition to score big: Skim your competitors' videos for ideas. Especially the videos on the top of the Youtube search engine that are ranking in the top spot. Next, use a handy tool like the TubeBuddy chrome extension to get a quick view of their tags. And you plan to add the identical keywords to your video upon uploading.
Keywords that work in Google and Youtube: Check your keywords in Google search to find out if they're terms that are considered "video keywords." This means that Google is reserving space for video content in their search results for that word, so you can get more bang for your buck by picking keywords that will work well for both YouTube and Google.Video keywords are often:

Reviews
Sports or fitness related
How-to's
Tutorials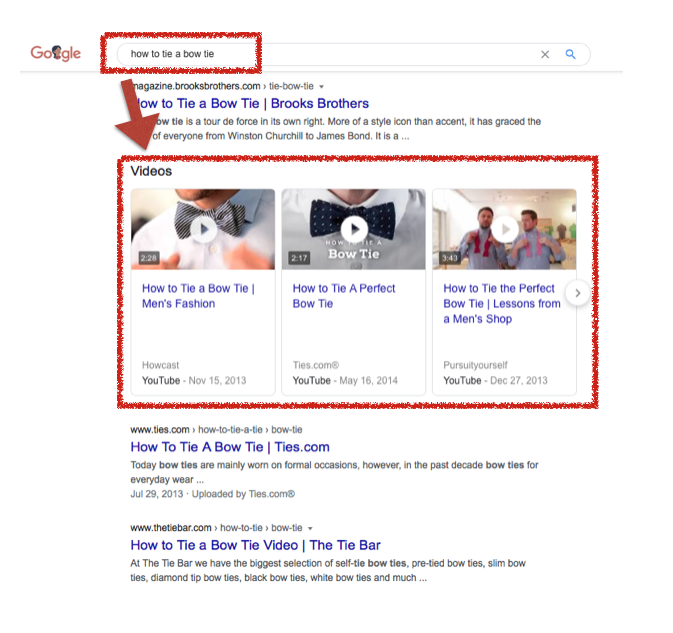 Understand keyword rank potential before you start: Make sure the words you choose are worthwhile (searched with substantial volume), but also achievable for ranking (lower competition level). You can find this data using analytics tools like SEMrush and google keyword planner.
One approach we like to use when identifying and optimizing content for keywords is a strategy made famous by Chris Von Wilpert at Content Mavericks. He calls it "How to Find the Opportunity Gap."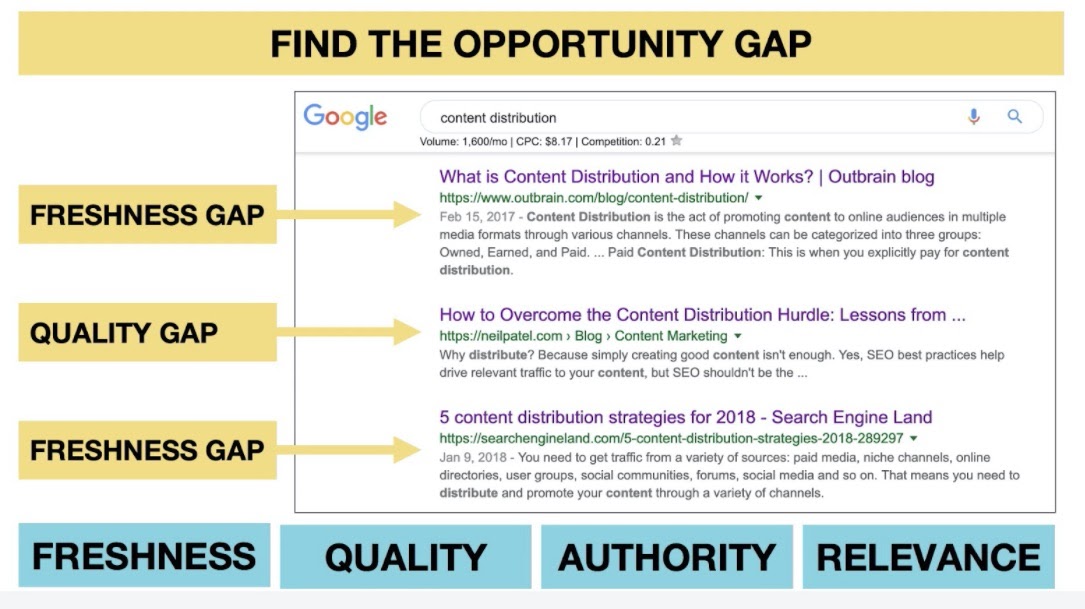 This approach makes you ask the hard questions about your content. In particular, it requires you to ask, "Is my content good enough to beat my competition?"
He mentions that you should always look for the following "gaps":
Ask yourself: Am I trying to outrank content that is old and possibly outdated?
This can be a great opportunity to up the ante by creating more accurate, updated content.
Ask yourself: Is the content that I am trying to beat really high caliber (quality, relevant content, videos, and infographics, etc.)?
If you are not also willing to do the work to produce that kind of content, you probably won't be able to outrank your competition.
Ask yourself: Is there a person who already wrote about this issue who is really authoritative?
For example, the keywords and content that Farotech is trying to rank for are often the same content that Neil Patel has already written about. The chances of my 800-1000 word blog beating Neil Patel is highly unlikely. So, if I know that going in, I might need to select a different keyword or even focus on an entirely different content idea.
Ask yourself: Is the content that I am creating going to match the user's search intent?
For example, if I am trying to rank for the keyword "social media tips," I might be able to garner traffic, but my content might mislead DIYers who are trying to learn social media. But if I optimize for "social media marketing company," the intent is much better for a potential user to read my content and try to hire my company to solve their problems.
Develop Awesome Video Content
When we talk about content, we have to remember that we're living in the age of overload. There are 500 hours of new video content uploaded every minute. Yes, you read that right. Needless to say, your videos have to be really good to stand out among the crowd.
If you're wondering how to grow your YouTube channel by developing great video content, we recommend that you do the following:
Thumbnails are CTR gold: Choose compelling thumbnails and titles to promote high click through rates. Remember, you need to compete in a crowded space. Why would someone click on your video? (Tip: You have 100 characters to work with for your full title, but keep in mind that most views will cut off the title on the thumbnail around 50 characters.)
Every second counts: Start your videos with brief, but compelling summaries, to improve audience retention. Remember, you have about seven seconds to capture the average viewer's attention. It's sad when you consider that even goldfish have an eight second attention span! Yup, we're losing to fish.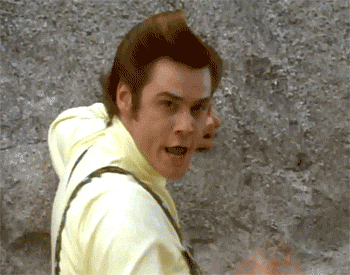 Always use cliffhangers: Continually refer to things you will cover later in the video to promote curiosity and keep people focused until the end. You know, FOMO is real, and no one wants to leave a video that might have a treasure waiting at the end.
Engagement signals are HUGE: Encourage user likes and comments on your videos, and then don't forget to engage with those viewers who do express special interest. Replying to comments can go a long way to keep visitors interested in your channel and always coming back for more. In fact, according to Brian Dean from Backlinko, comments are the most important factor out of all the social engagement signals.If you're wondering how to promote Youtube channel engagement, try prompting your viewers with very specific questions. Everyone asks for generic likes and comments. Try inviting them to engage with questions or prompts like these:Hit like below if you learned something new from this video and then comment to tell us what it was!Comment below to let us know which of today's tips you found most helpfulLike this video if you could relate to the challenges we described.Do you have a follow up question based on what we covered in this video? If so, add it in the comments below!
Optimize Each Video Using Principles of SEO for YouTube
Just like any content on the web, your YouTube videos and your channel need to be optimized for search. Let's spend some time discussing how to do SEO for YouTube.
Target keyword placement: Use your target keyword in your title, and try your best to include it toward the front.
Optimize Youtube transcriptions: Say your keyword in your verbal content. YouTube transcribes your audio, so this will help them identify what your video is about.
Create a Youtube video description SEO strategy: Write a solid description that's clear and contains your keyword at least twice, being careful to use it naturally and not to resort to keyword stuffing.You technically have 5,000 characters to work with for your description. As a rule of thumb, we recommend a 200 word minimum. Rather than completely summarizing your video content, try giving a teaser that helps the user know what it's about, but also invites them to check the video out to learn more. You never want to give away so much in the description that people abandon your video, believing they got all the info already.
Optimize Youtube video tags: Add your keyword as your first tag. Then add variations of your keyword as your additional tags.You should also use a tool like TubeBuddy to check top competitors' videos and copy their exact tags. This will get you on the suggested search list on the right hand side of that top performing video.
Give your Youtube channel page a little love: Don't forget to optimize your channel page also. You can do this by including your top keywords in the description text and on your "About" page.
Be Proactive About Promotion
Don't just sit around waiting for your SEO attempts and your awesome video content to propel you to success. You can be proactive by sending traffic to your video to get some momentum rolling.
Generate outside traffic to your Youtube channel: Start by thinking about external traffic from other places where you already have an audience. This could look like linking to your videos from your blog posts, via social media accounts, in email sign offs, etc. We also recommend maximizing your email list by sending out a blast everytime you publish new Youtube content.
You should also take advantage of ways to drive traffic internally within YouTube.
Add in more keywords: In addition to your primary keyword, include related terms as additional keywords and tags. This will give you a better chance of showing up in the sidebar of other videos that your target audience would be watching. (Tip: for help coming up with tags and descriptions, check out YouTube's incredibly helpful Creator Academy!)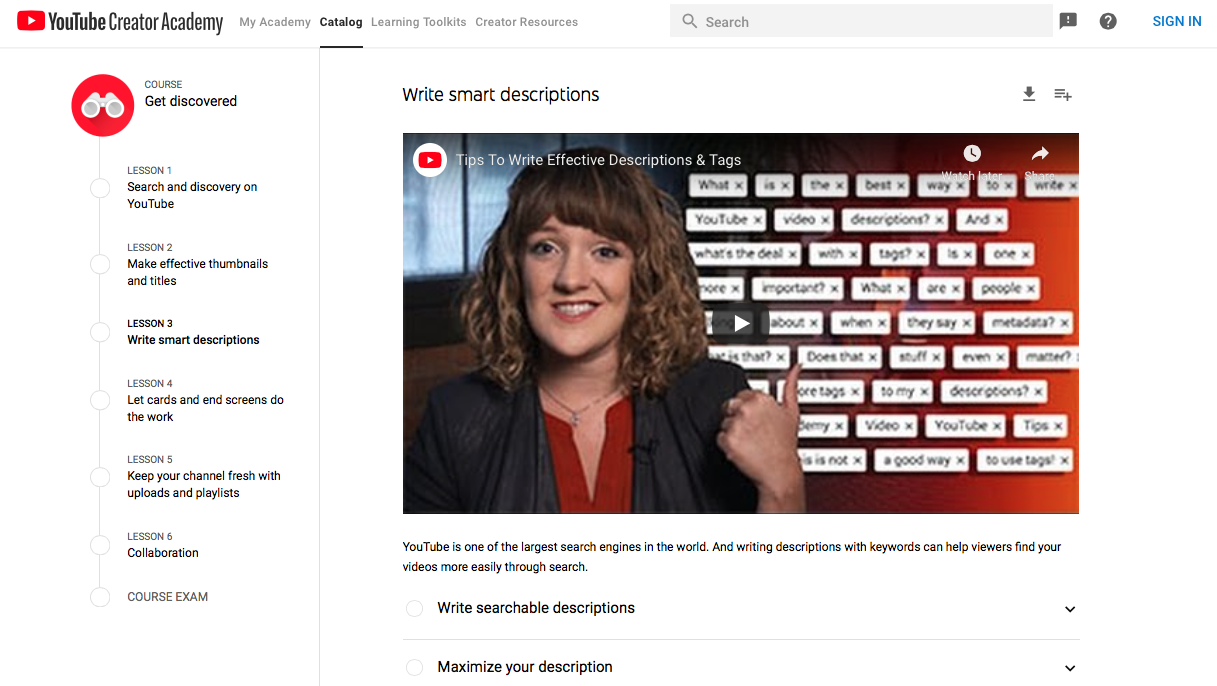 Create video playlists in Youtube:Set your videos up in playlists so that one automatically plays after the next. This is one of the easiest ways to get some extra views on your related video content, keep people on your channel, and boost those ranking factors within YouTube.
Utilize annotations at the end of your Youtube videos: Annotations function like calls to action (CTAs) and can be very effective as long as they're not overused. You might want to start by adding one or two standard text overlays to the end of each of your videos. Try adding an invitation to view another video, subscribe to your channel, or share the video that just played.Annotations and pop-ups can be used throughout videos to encourage subscriptions. However, one of the most effective types of annotations is called an "end card." End cards allow you to place thumbnails to more of your videos at the end of your current video!
As Always, Keep an Eye on Analytics
In order to tweak and improve your SEO for YouTube, you need access to clear analytics on your current videos so you can see how users are engaging with them. You'll find that the updated YouTube Studio is an awesome resource for checking data on CTR, traffic sources, keywords, audience retention and engagement, and more.
Drop Off Rate is a Key Indicator
With drop off rate what you're trying to figure out is at which points did people stop watching your video. Where did they jump ship? In order to think the way Youtube thinks, you have to keep this key metric in mind.
What does YouTube care about? They want users on their platform for as long as possible. So, the longer your video keeps someone on Youtube, the more authority they will give you for future videos to rank even better.
We recommend going back through your old videos and paying close attention to your drop off points and your peak points. Ask yourself: what did I do right or wrong in the past? Using this data, plan to maximize your strong points and minimize those aspects that made people leave prematurely.
According to Statista, YouTube was the social media platform with the biggest reach among U.S. Gen Z and Millennial internet users in 2019, regardless of gender. If your business isn't already tapping into the power of YouTube, we'd love to help you get started.
Request a free consultation with our video team to discover how you can leverage video content to achieve transformative marketing results.